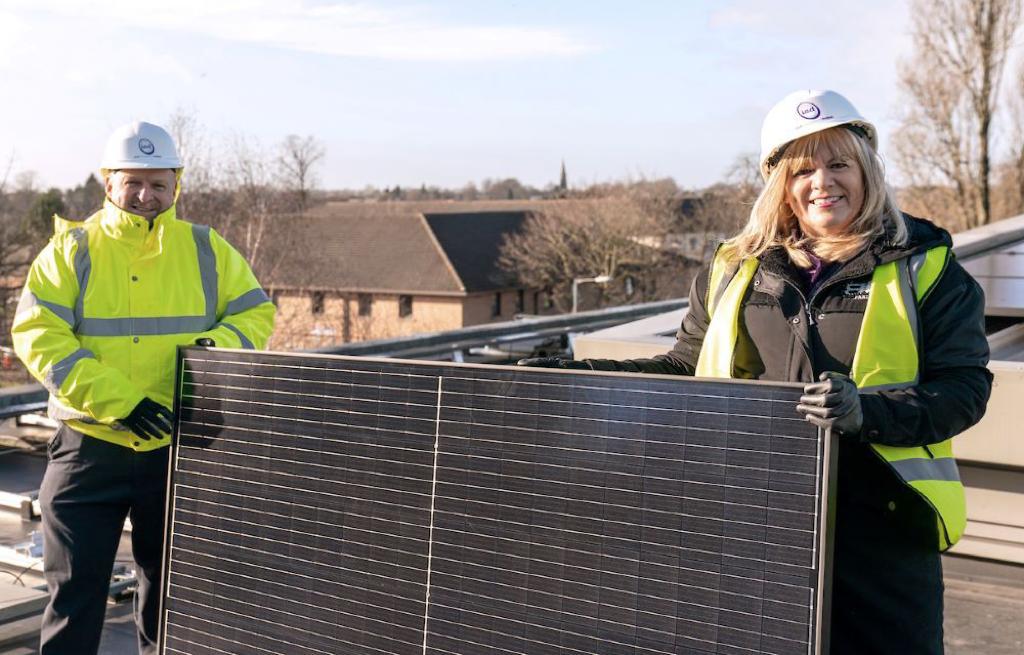 Cllr Powell, pictured with IED Installations Director Ian Dolan
New chapter for energy saving at Huyton Library
New energy saving features are being installed at Huyton Library, the latest phase of Knowsley Council's drive to reduce its carbon emissions to net zero by 2040.

Knowsley's Cabinet Member for Communities and Neighbourhoods, Cllr Shelley Powell was on hand to see the start of work to install state-of-the-art solar panels on the roof and find how they will help the library reduce its energy consumption and carbon emissions. As well as the solar panels, the programme includes LED lighting throughout the library and air source heat pumps.
The low carbon technology is expected to save the library 71,007 kg CO2 (71 tonnes CO2) in carbon emissions per year. Similar works are also underway at another council-owned building – The River Alt Resource Centre at Woolfall Heath Avenue. The works follow successful bids for £750,000 in grants from the Public Sector Decarbonisation Scheme.
Alongside these two sites, works are also ongoing at Court Hey Park, including low carbon upgrades to the heating, new LED lighting throughout the Courtyard buildings and solar panels. These initiatives will result in annual carbon savings of 31,905kg CO2 at the park. The council has also secured funds to create a Heat Decarbonisation Plan for 20 council buildings with high carbon emissions.
Cllr Powell, pictured with IED Installations Director Ian Dolan,  said: "As a council we're committed to reducing our carbon emissions to net zero by 2040 and declared a Climate Emergency in 2020 to recognise the urgency in tackling this issue. The introduction of technologies to save energy and reduce carbon emissions from our buildings are important steps towards us achieving this important goal."